Your flight
What will happen on the day?
On the day, your pilot will brief you on the flight before strapping you safely into the harness and attaching both of you to the wing. When you are ready, he will tell you to look forwards and run a few steps towards the edge of the hill while he lifts the wing behind you. Before you know it, your feet will have left the ground — you are now flying! Your pilot will help you get comfortable in your seat and will be able to speak to you throughout the flight. When it's time to land, you will be told to shift forwards in your seat so that you can stand up on reaching the ground. The pilot will bring you into landing carefully and then slow the wing at the right time so that you gently touch down.
You will need to wear sensible clothes (it's colder up high so please wrap up warm). It is important to wear footwear that you can run a few metres in, ideally trainers or walking boots. You may need to wait for the right weather conditions, so please bring water and snacks along with some patience! If it's sunny, suncream and sunglasses are a must. We cannot take large bags flying with us, so please leave your belongings with a companion or limit what you bring with you. Phones and cameras are not allowed, but we will try to film your flight for you so you will still have a lovely record of your experience. Friends and relatives can also take photos from the ground for you.
Paragliders have to take off into wind, so we use different sites around the South of England according to the wind direction. We fly at Beachy Head, the South Downs, and other well-known sites in the South East. Find out more about where we fly.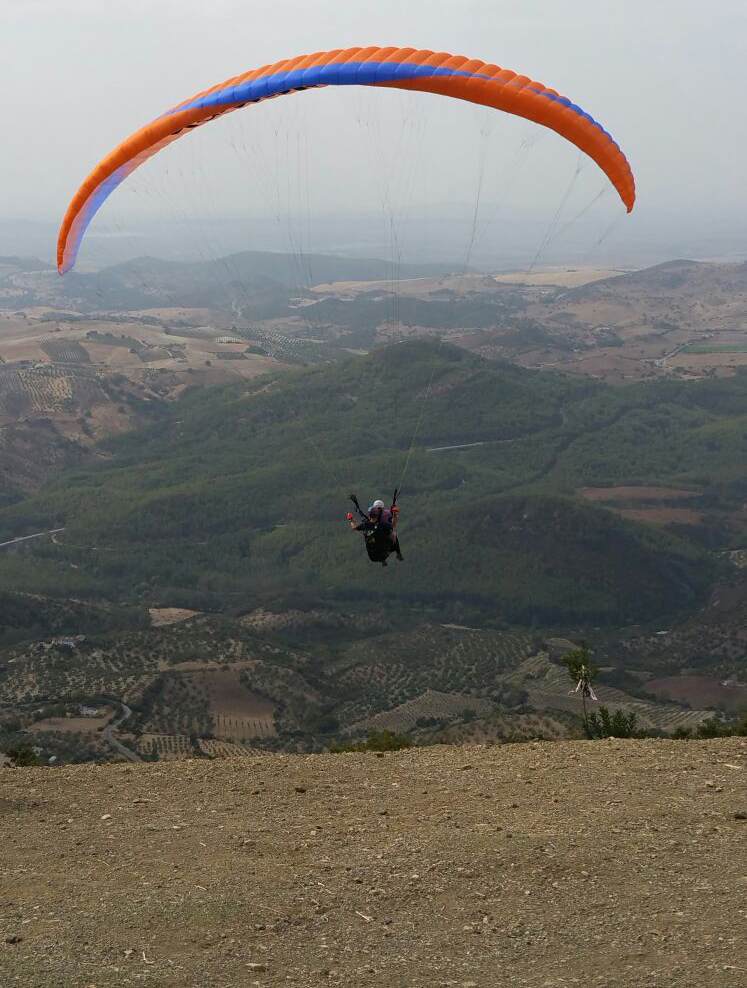 Do you want a calm, relaxing flight with gentle turns and the chance to appreciate the scenery unfolding below you? Or are you an adrenaline junkie looking for a more thrilling flight? Let your pilot know your preference in advance and he can make sure that you have the flight that suits you. If you'd prefer to see how you feel in the air first, that's no problem. You will be able to communicate with your pilot throughout the flight.
If we can't fly
On most occasions, we will be able to let you know the day before if the weather is not going to be flyable so that you don't have a wasted journey. However, the forecast is not 100% accurate, and if the weather is worse than expected on the day of your flight then we won't take the risk of flying. Your safety is our priority.
If we are not able to take you flying on the day that you booked, we will book you in for the next available date of your choice and try again! You won't be charged any extra for this.
The personal touch
HOW WE MANAGE YOUR BOOKING?
At Mile High Paragliding, we will manage every part of your tandem experience flight with us. You select the date of your choice when you book online, and we will then send you all of the relevant information about the experience so that you know what to expect and bring on the day.
Paragliding is a weather dependent sport, so we will be at the mercy of the very changeable British weather. We check the weather every day and will let you know as soon as possible if we think that we cannot complete your flight as planned. If we need to change the site or timings of the flight, we will send the details via SMS text to the primary phone number on the booking.
We will always try to fly you on the day of your choice, but we can only fly in the right wind conditions and when it is safe. If we need to postpone the flight due to adverse weather conditions, we will advise you of this as soon as possible and ask you to choose another date to complete the flight at no extra cost.
Points of contact:
Approximately 2 weeks before your flight, we will contact you by email to remind you that you have a tandem experience booked and to ask you to confirm that you can still attend the planned session.
A few days prior to the flight, we will let you know the planned flying site, its location, the time to arrive, and exactly where to meet a member of the team. We will include important information about the site and information on how to get there. We will ask you to confirm what time you will be setting off to get to the flying site so that we can advise you of any changes should the weather not be as expected.
The night before the flight, we will do further weather checks and confirm via SMS text that everything is going ahead as planned.
On the day of the flight, we will SMS text you before you depart to confirm that our final weather checks have been completed and that we will be going ahead.
If at any point during the above process you need more information, we are always contactable and here to help. Just contact us through the website or give us a call, and we will be there to help you have the best possible experience.