The Newhaven to Brighton run on the Sussex coast line!
Within the UK paragliding community, there are pilots who have been lucky enough to have completed the Newhaven to Brighton run along the Sussex coastline. To join this select group of pilots, you have to take off from Newhaven Cliffs next to the Newhaven Fort, fly along the coast for 15 kilometres to Brighton Marina, and then make it back without landing.
The Newhaven to Brighton run usually takes about 45 minutes, and during the flight you are lucky enough to witness some amazing views. These include stunning white chalk cliffs, natural bays forming beaches, the pretty coastal towns of Rottingdean and Saltdean, and stunning views of the South Downs.
The Newhaven to Brighton run is not an everyday flight because it requires a number of factors to align at the same time. You need a good southern breeze to be coming in off the English Channel, the tide to be out long enough to provide a bottom landing should you need it, and the piloting skills to make the distance. These skills include knowing where to top up your height before flying on to the next cliff face; you need to know how to read the conditions and make the most of any available lift to get back to Newhaven. 
On one of the above days I was lucky enough to share the experience with Caroline. We knew that the conditions were going to be good so we headed to Newhaven early and got into the air as soon as possible.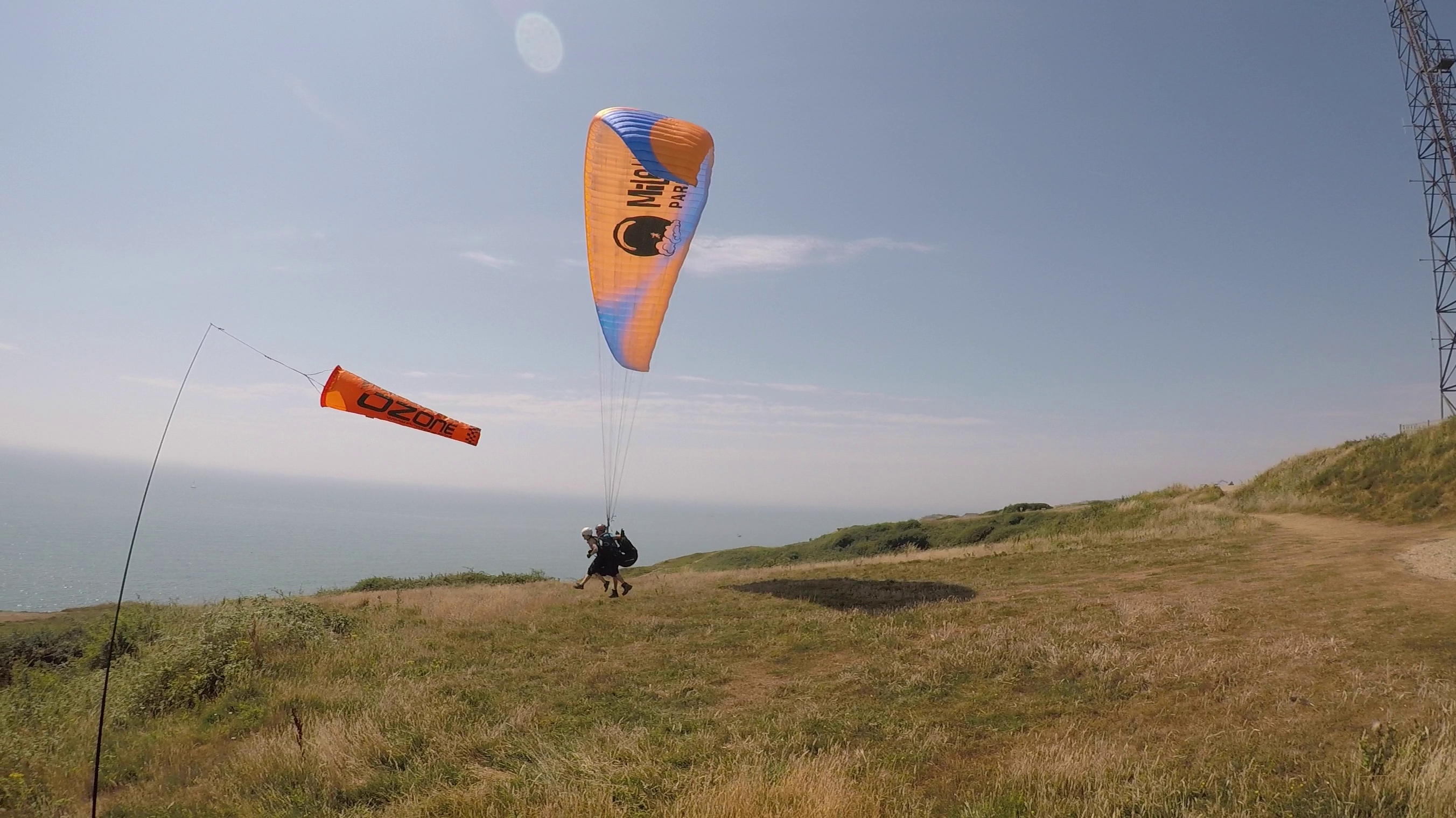 After a few beats of the cliffs at Newhaven, all the indications were that the Brighton run was a possibility, so we started our adventure. We made good progress along the coast with all the cliff faces working well and allowing us to top up our height and stay above the white cliffs.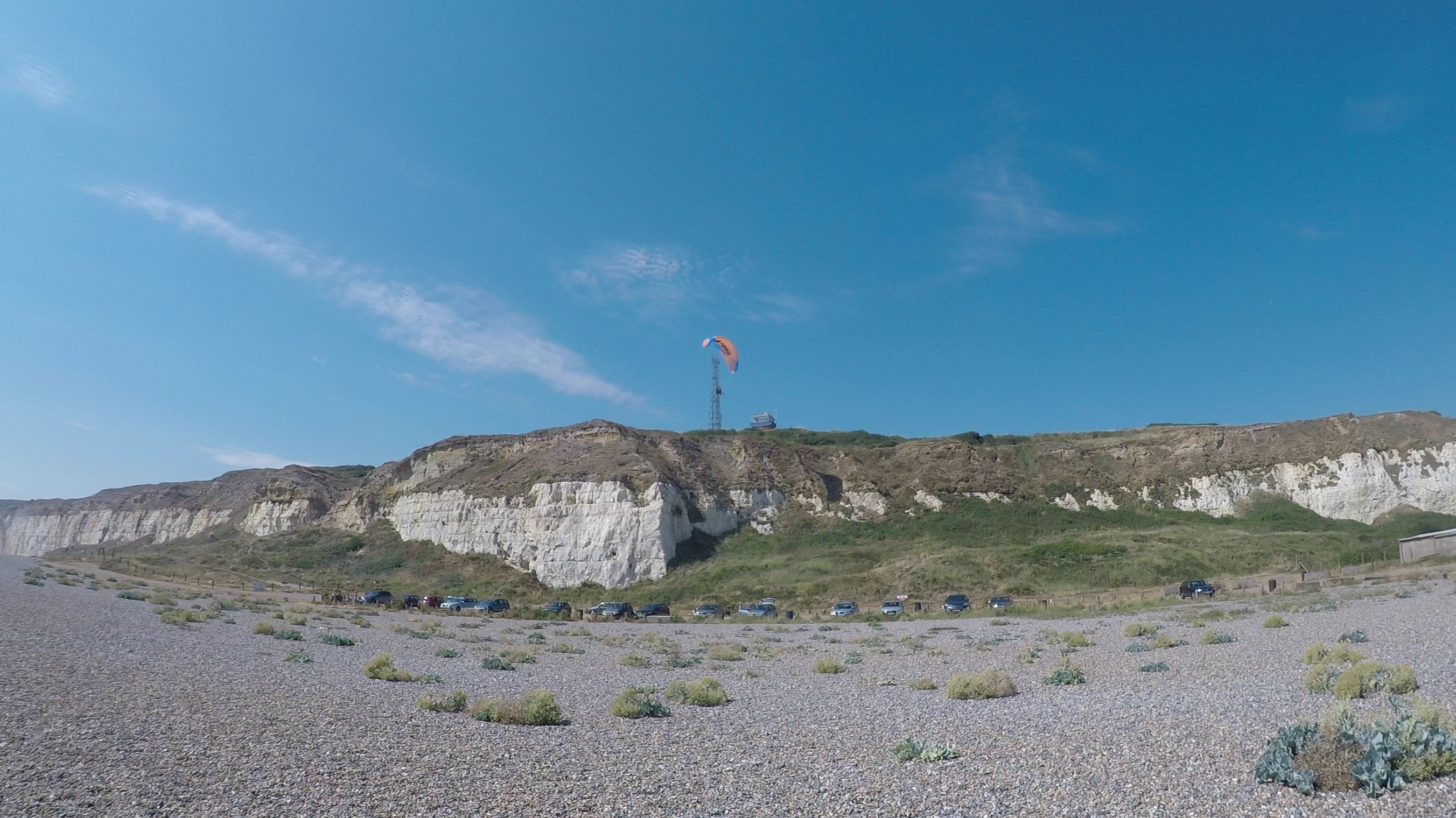 Our flight to Brighton was slightly into wind, so while this made it slower, it meant that the return leg would be quicker if we made it, so we pushed on. During the flight, Caroline was able to take the controls to fly the paraglider and quickly realised how simple it was to steer.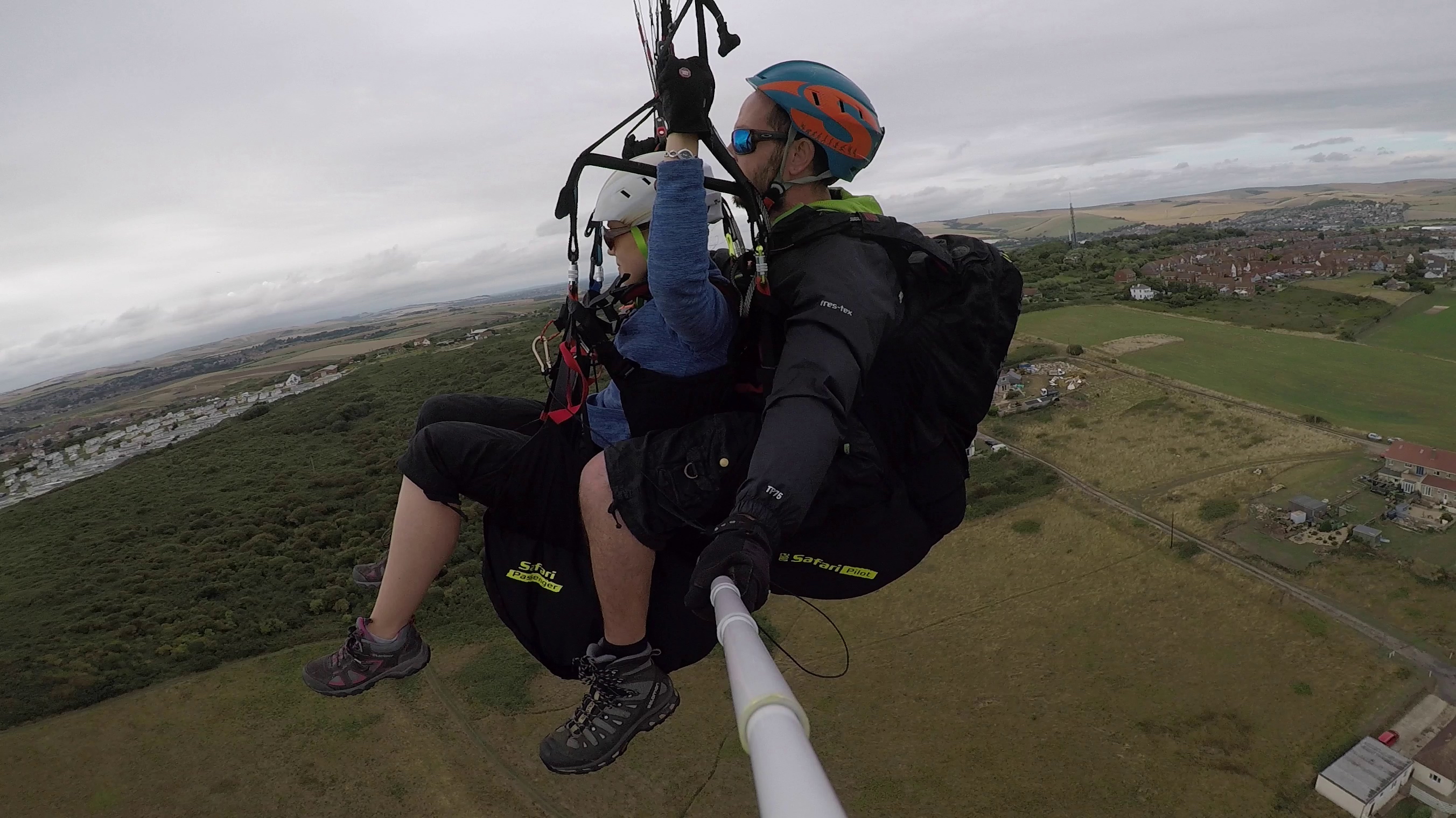 Our perseverance was rewarded when we made it to the marina wall and we were able to view Brighton from above.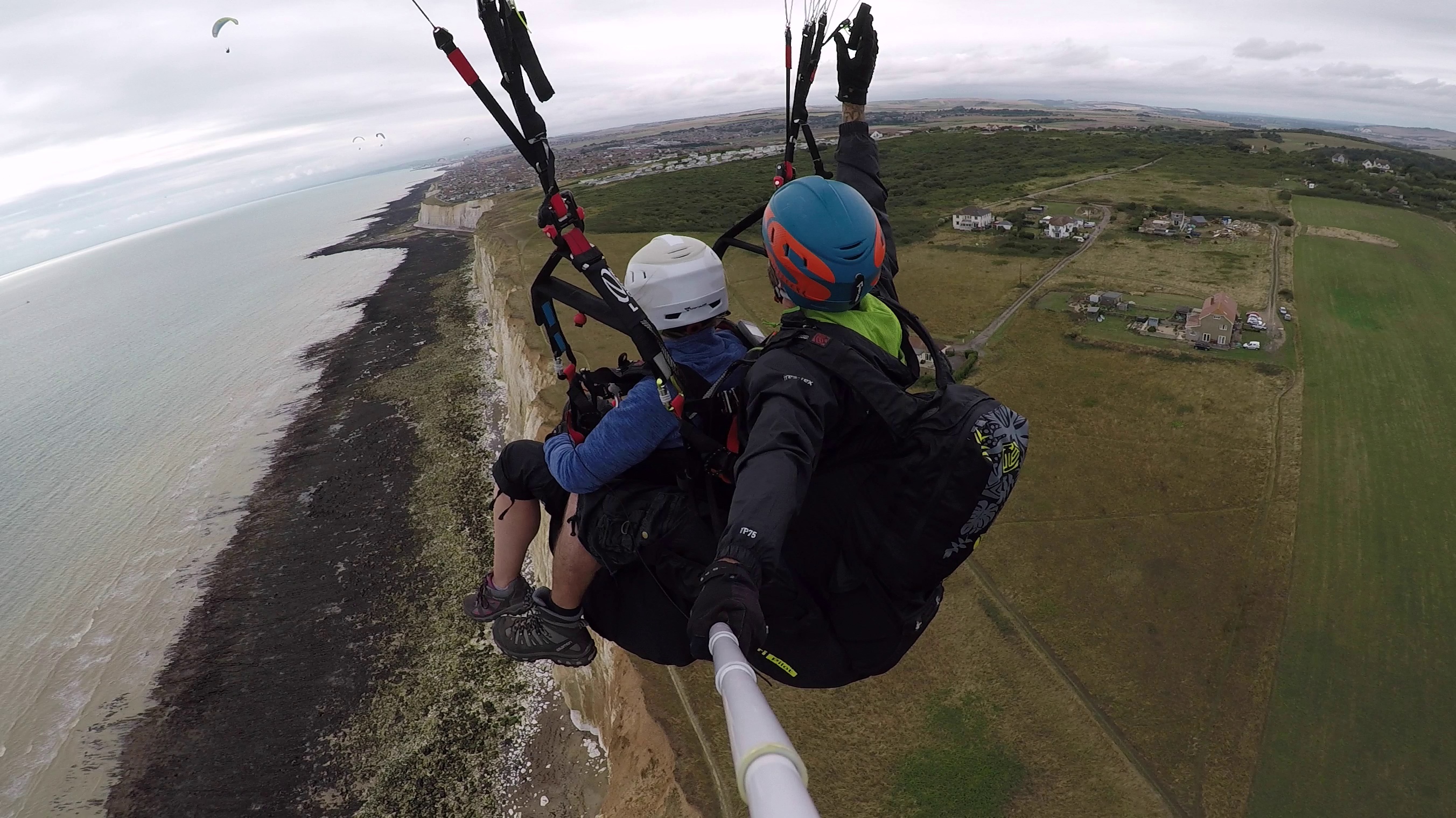 We turned back and made good progress, passing pilots who had decided to follow us, and we soon found ourselves back at Newhaven landing on the pretty pebble beach.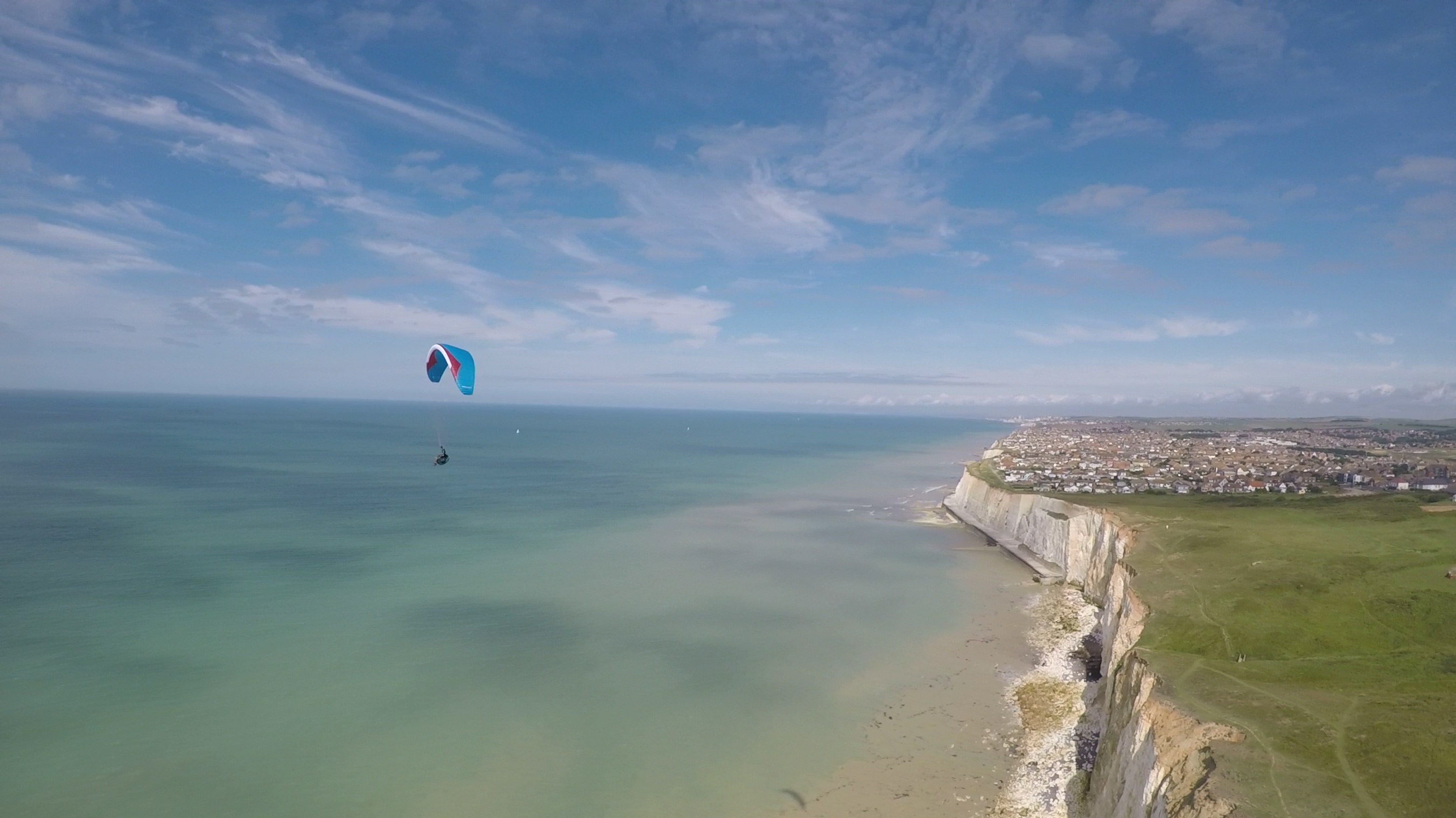 Completing the Newhaven to Brighton run on a paraglider is a favourite activity of mine, and to do it on a tandem paraglider was very special. I am happy that I got to share the experience with a nonflying person, and it is something that will be one of the highlights of my paragliding career.